News, announcements

Prof Primož Ziherl awarded Mentor of the year Prize
(Ljubljana, March 15 2018) Association Young Academy has at the final ceremony of the Mentor of the year call awarded Prof Primož Ziherl of Faculty of Mathematics and Physics of University of Ljubljana and "Jožef Stefan" Institute with the Mentor of the year Prize. Prof. Ziherl has been nominated by his former PhD candidate, Dr Matej Krajnc, who currently works as a pos-doc research fellow at the University of Princeton, USA.
Mentor candidates have been nominated by their current or former PhD candidates, while the finalists and the winner are chosen by the expert committee of the Association Young Academy.
The selection of the mentor of the year intends to promote positive practices of mentoring, and is supported by the Slovenian Research Agency (ARRS).
Along with the winner, five finalists of this years' call were presented with awards: Prof Petra Čeferin of Faculty of Architecture of University of Ljubljana, Dr Borut Jug of University Medical Centre Ljubljana, Dr Mateja Sedmak of Science and Research Centre Koper and Prof Marko Topič of Faculty of Electrical Engineering of University of Ljubljana.
Current or former PhD candidates have this year respond with 124 nominations of 94 mentors.
Congratulations.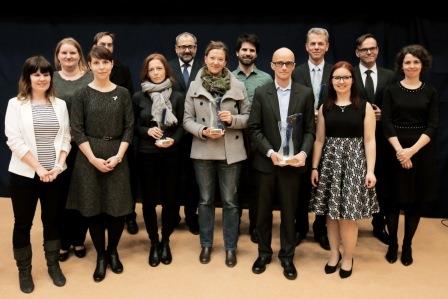 Mentor of the year, Prof Primož Ziherl and finalists of the 2017 call for the Mentor of the year with the President of the Association Young Academy Urška Slapšak, the Director of the ARRS, Prof József Györkös and organisation committee
Foto: Slovenian Press Agency