News, announcements

CHANSE collaboration of Humanities and Social Sciences in Europe and NORFACE: NEW CALL FOR PROPOSALS – Pre-announcement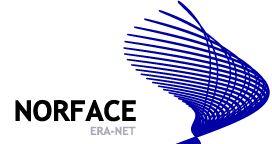 CHANSE collaboration and NORFACE pre-announce a call for international research projects on the fields of social sciences and humanities in the European Research Area (ERA). CHANSE Collaboration of Humanities and Social Sciences in Europe, is a joint initiative of 27 research funding organisations from 24 countries. The main goal of the CHANSE programme is to announce a call for international research projects.
Enhancing well-being for the future call will be officially announced on May 26th. Project team has to be composed at least of four and maximum six Principal Investigators, i. e. partners eligible to receive funding from four or more different countries participating in the call. Each project will be financed in the total amount of up to EUR 1,500,000.00. The start of financing of the selected projects is planned for the end of 2024 or the beginning of 2025.
The goal of the Well-being call is to promote diversity in research. When building research consortia, applicants are strongly encouraged to take into account the following aspects (topic description):
Gender balance,
Academic age balance,
Geographical diversity,
Knowledge exchange and impact.
Link to the CHANSE website: https://chanse.org/pre-announcement-of-the-call-enhancing-well-being-for-the-future/.
Indicative timeline:
Official call announcement and launch of the submission system: May 26th, 2023
Deadline for outline proposals: September 21st, 2023, 14.00 CET
Deadline for invited full proposals: March 26th 2024, 14.00 CET
Call results: October/November 2024
Earliest funded project start: End of 2024/Beginning of 2025

PARTNER SEARCH TOOL:
In order to facilitate the process of forming research consortia, we offer applicants a partner search tool available here: https://www2.ncn.gov.pl/partners/chanse/.This tool can be used by projects looking for partners and partners looking for projects.
Please note: All countries will be making the same announcement in due course and that potential applicants should refrain from contacting their home organisation until they have released the statement.
For general questions please contact: wellbeing@ncn.gov.pl
For questions related to national eligibility requirements please contact your national/regional contact point:
Ana Jakopin, ana.jakopin@arrs.si, 01 400 5943
Jelka Fric Jekovec, jelka.fric-jekovec@arrs.si, 01 400 5931