News, announcements

Prof Roman Jerala of National Insitute of Chemistry awarded an ERC Advanced Grant
(Brussels, April 6 2018) The European Research Council (ERC) has today announced results of the latest Advanced Grants call.
Prof Roman Jerala of the National Institute of Chemistry successfully received support to the project MaCChines (Molecular machines based on coiled-coil protein origami).
As highlighted in the ERC press release, Prof Jerala will build new class of molecular machines based on proteins.
The President of the ERC, Professor Jean-Pierre Bourguignon, commented: "The diversity and boldness of the research in this latest funding round is again impressive. The selected researchers explore the brink of the unknown, the ideal setting to make breakthroughs. If the past is any guide to the future, the ERC is set to continue betting on audacious scientific projects – the latest review shows again that over 70% of ERC-funded research led to discoveries and major scientific advances. " (Source: ERC Press Release)
In total, 269 senior researchers of 27 nationalities were awarded in the total value of 653 million Euros.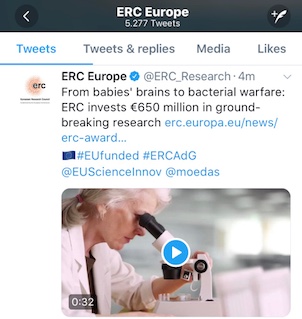 ERC tweet on AdvG call results
Prof Jerala's ERC grant is the sixth ERC grant, located in research organisation in Slovenia and the fourth Advanced Grant.
Prof Roman Jerala acts as an ARRS Scientific council member.
Congratulations.
Related: